In this Bethany SDA Church 21-Day Daniel Fast daily devotional resource kit you will find 21 small Bible tracks, that will help you in your spiritual development. 

We encourage you to take 10 minutes a day and read the pocket Bible tract for that day. Read it and share it with one friend you meet that day. 
Hopefully you got a 21 day tract kit at church with the following 21 tracks for daily reading.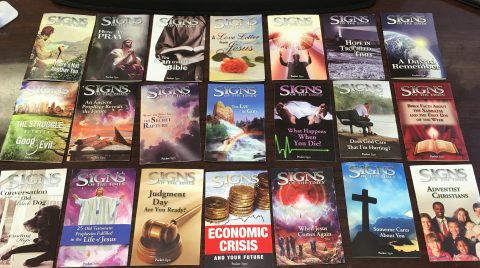 Daily Reading Track Schedule 

Day -> 1.    There's Not Another You
Day -> 2.    How to Pray
Day -> 3.    You Can Trust the Bible
Day -> 4.    A Love Letter from Jesus
Day -> 5.    You Can Live Forever
Day -> 6.    Hope in Troubled Times
Day -> 7.    A day to Remember
Day -> 8.    The Struggle between Good and Evil
Day -> 9.    An Ancient Prophecy Reveals the Future
Day -> 10.    What the Bible Says about the Secret Rapture
Day -> 11.    The Law of God
Day -> 12.    What Happens when you Die ?
Day -> 13.    Does God Care that I'm hurting ?
Day -> 14.    Bible Facts about Sabbath and the First Day of the Week.
Day -> 15.    Conversation with an Old Black Dog
Day -> 16.    25 Old Testament Prophecies Fulfilled in the Life of Jesus
Day -> 17.    Judgement day, Are You Ready ?
Day -> 18.    Economic Crisis and Your Future
Day -> 19.    When Jesus comes Again
Day -> 20.    Someone Cares About You
Day -> 21.    Adventist Christian
 
Here is a more detailed Bible Study Guide.